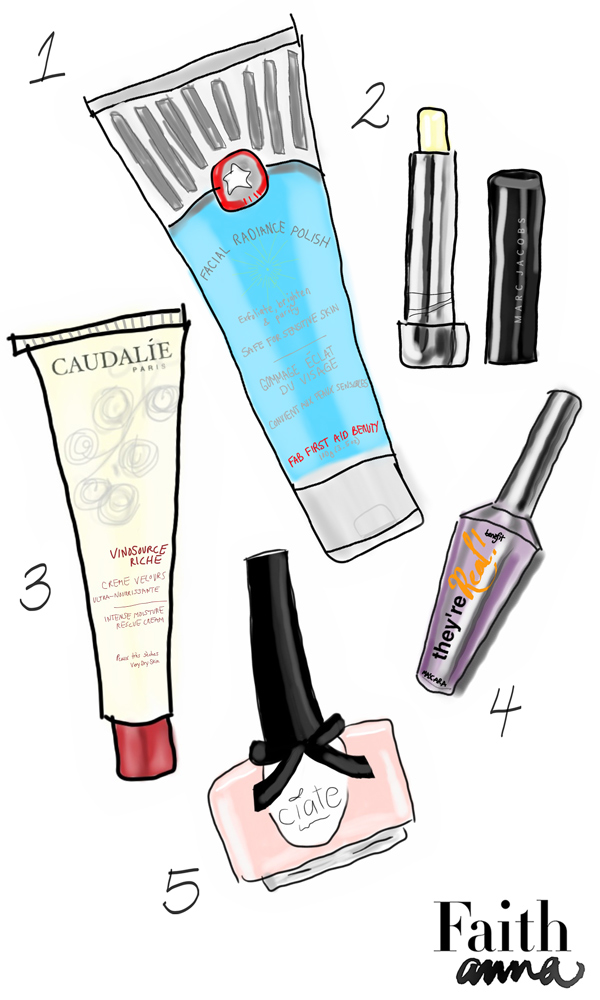 As the winter winds are approaching, I found it necessary to switch up some of my beauty products to acclimate my skin to colder weather. Here are some of my favorite products for winter, and some for everyday!
1. First Aid Beauty Facial Radiance Polish – $24
This stuff is a game changer. I didn't start using exfoliators until about a couple of years ago, and I've never looked back. Most women skip this part of their skin regimen, but let me tell you….your face will GLOW with dewy brightness after using this product. What makes this exfoliant better than the rest, and great for winter? It is gentle, so it will be kind to your dry skin in the winter months.
2. Marc Jacobs Lip Lock Moisture Balm – $24
I know what you're thinking, $24 for chapstick? This is not your average chapstick. There was a point when I first moved from humid Florida to dry Texas, and my skin did not know how to react. The worst part? Definitely my lips. They wouldn't stop burning and peeling, and believe me…I tried EVERYTHING. Finally, someone recommended me this product, and I decided why not? Summer or winter, this lip balm will make you rethink every drugstore band you've tried. It has SPF 18, so its got you covered all year round. It is also the perfect primer before any matte lipstick or lip stain.
3. Caudalie Intense Moisture Rescue Cream – $39
Let me start by saying, this moisture cream is for all skin types. I will say though, that because of its intense reparative properties, I would only use this at night, or in your dryest of areas. The best part is waking up in the morning with soft, supple skin. It also comes in a convient to carry size, so you can easily throw it in your purse on those days when the weather is against you.
4. Benefit Cosmetics They're Real! Mascara – $23
Now this may not be considered a "winter must-have" necessarily, but it is still a must have! Everytime I wear this mascara I get compliments about how long my eyelashes are. It is also great because it is long lasting and it doesn't clump. This is one of the first mascaras I have used without having to "cocktail" with another mascara to get the effect I wanted.
5. Ciaté Paint Pots Nail Polish in Nude – $15
This polish is my favorite nude polish. It has the perfect balance of pink tones and nudes to compliment fair to medium skin tones. Now this may not come off as a winter beauty product, but if you know me then you know my nails are always painted. I love many shades during the winter, but the nude nail is so timeless. The pink tones in the paint allow your skin to look alive during the winter, which can be a challenge to find in flesh tone products.
What do you think of these products, and what winter products can you not live without?