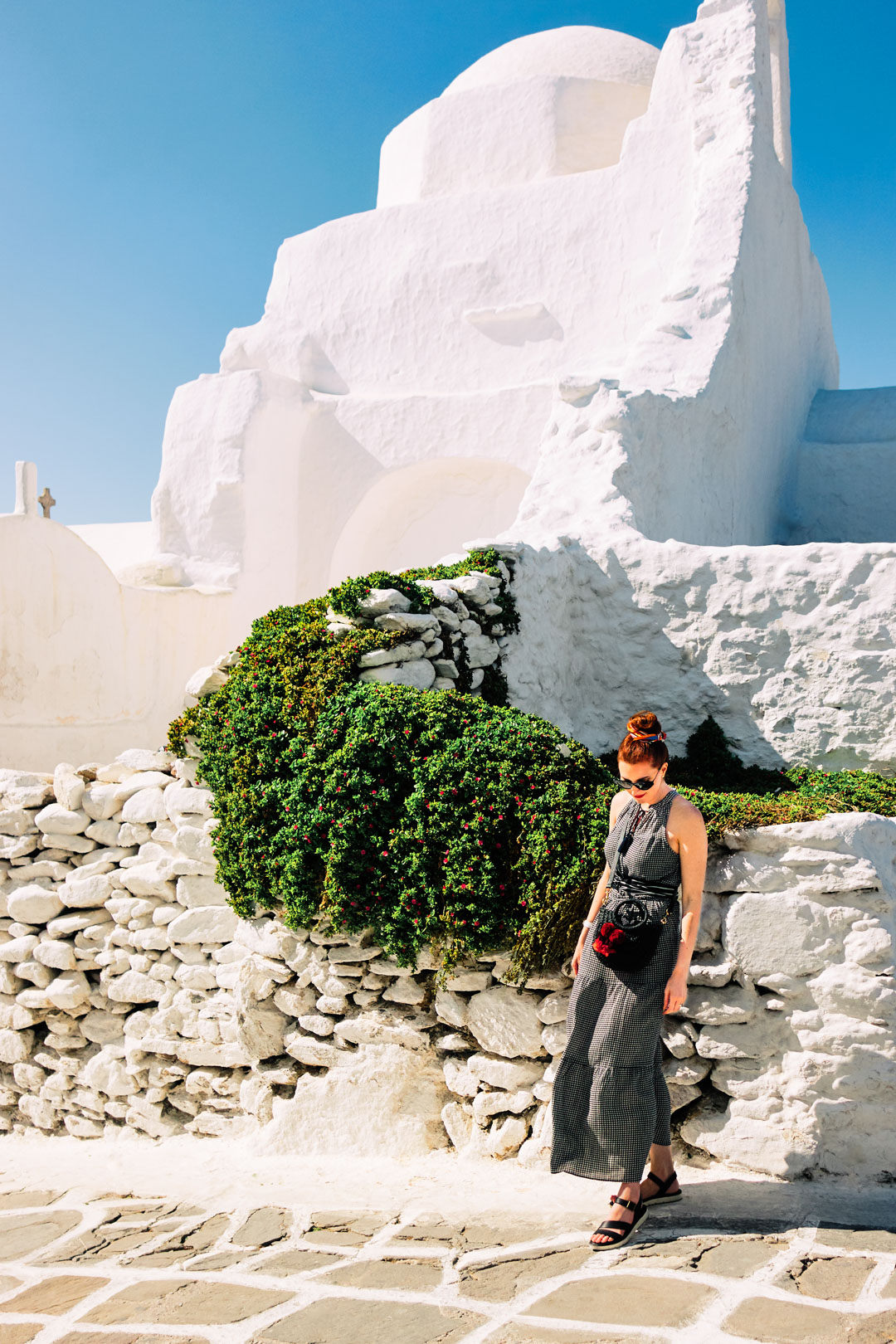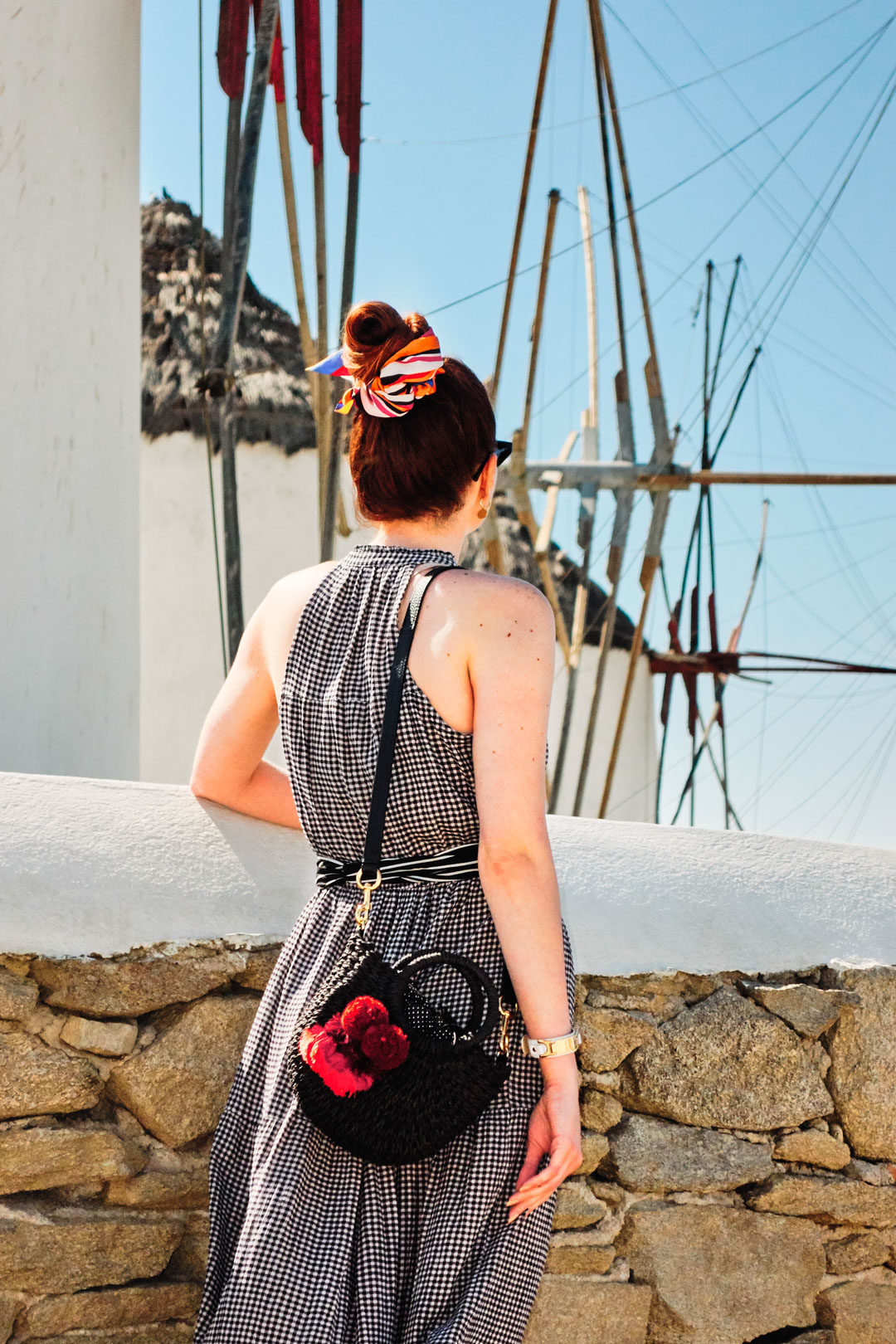 Continuing our dream vacation in paradise I knew comfort was key. As far as clothes to pack it may depend on the time of year you visit. We went mid September and it was windy! Hair up is a must for windy days. We were lucky and were told it was even windier a few days earlier–so long sunglasses. Thankfully we didn't have to worry about that. This long dress was perfect because I knew it would stay down. It was also quite rocky and the roads were a bit uneven so good walking shoes will go a long way. I found these adorable Timberland walking sandals with cushion support so easy to walk in. They were comfortable and didn't sacrifice any style-the perfect vacay sandal.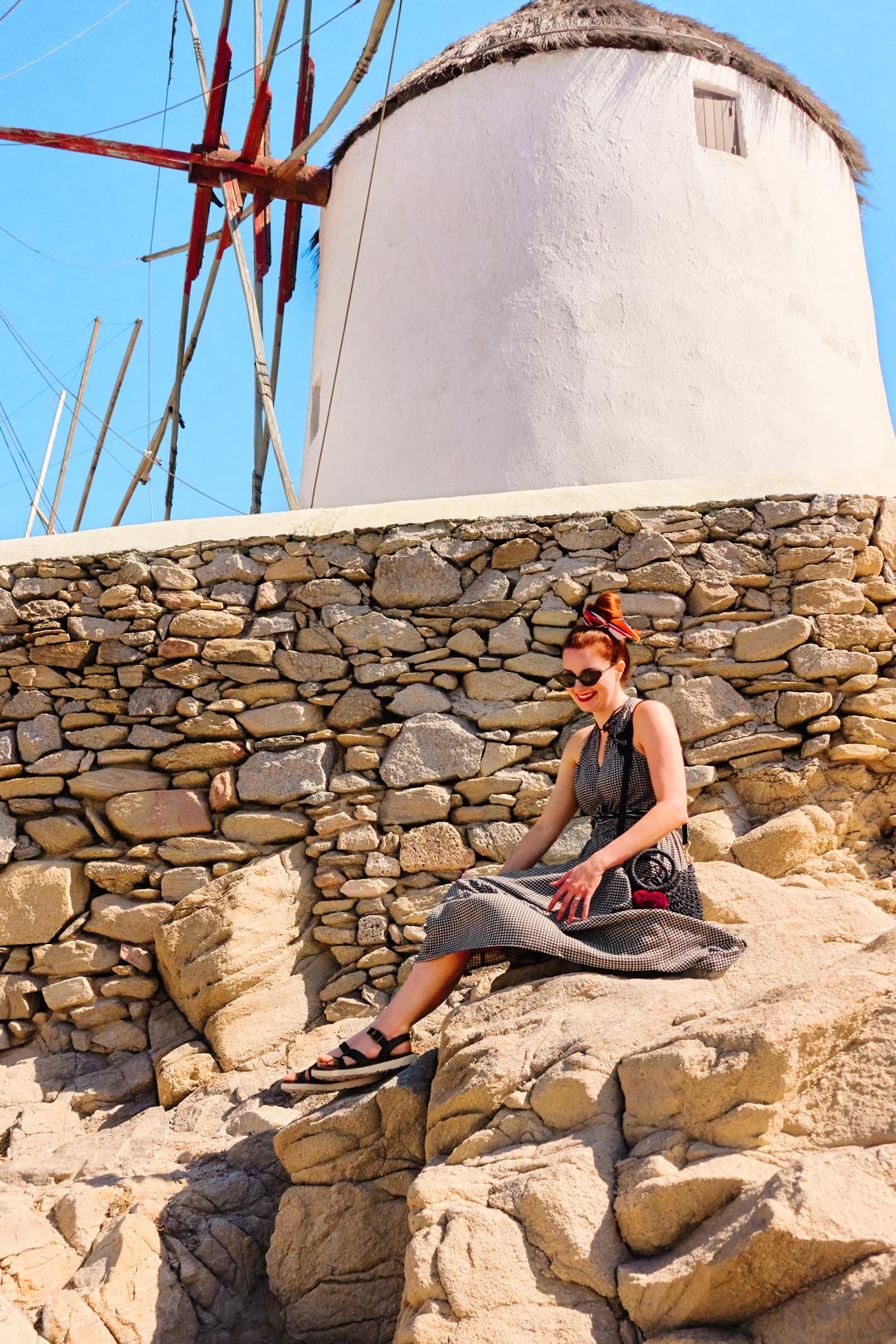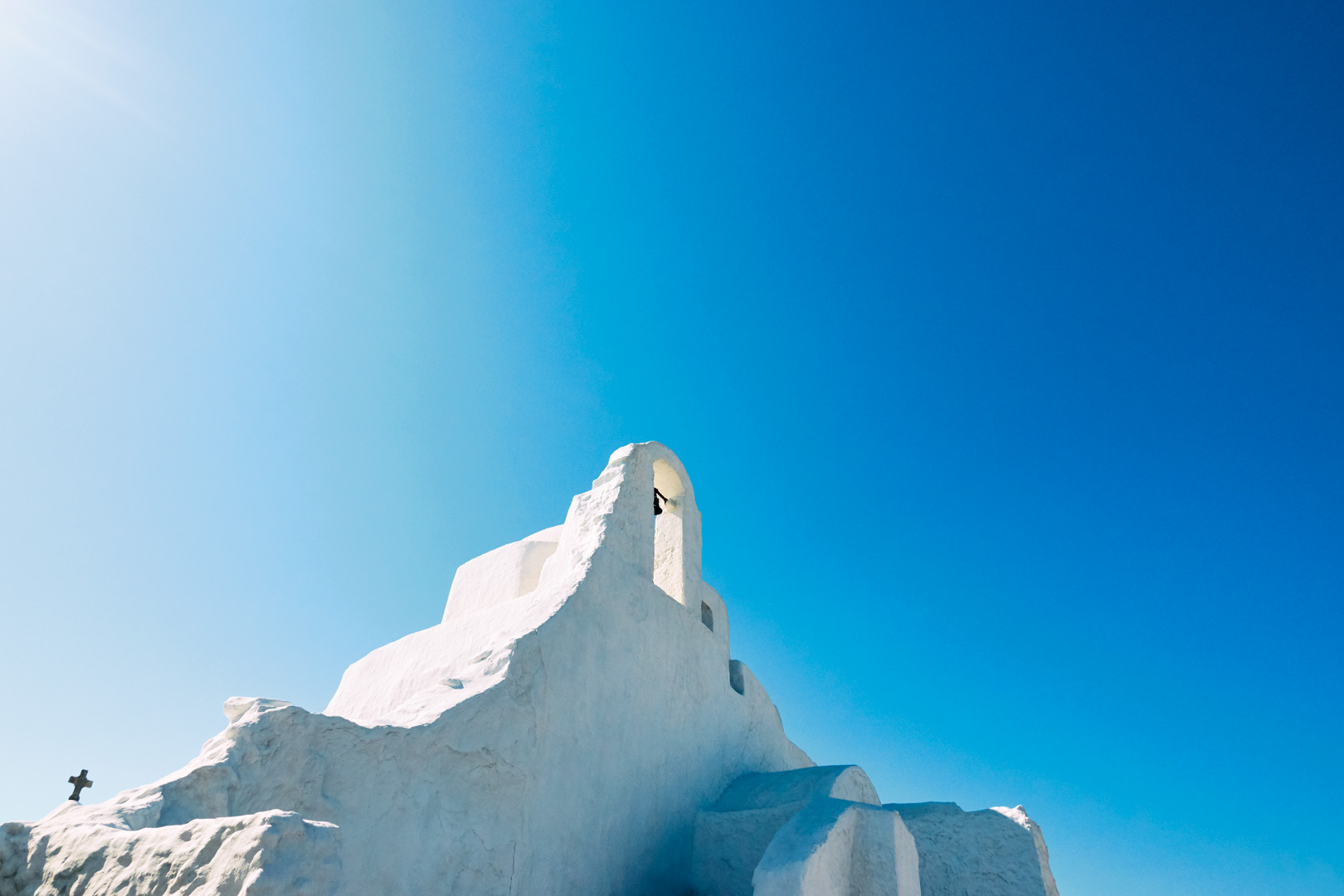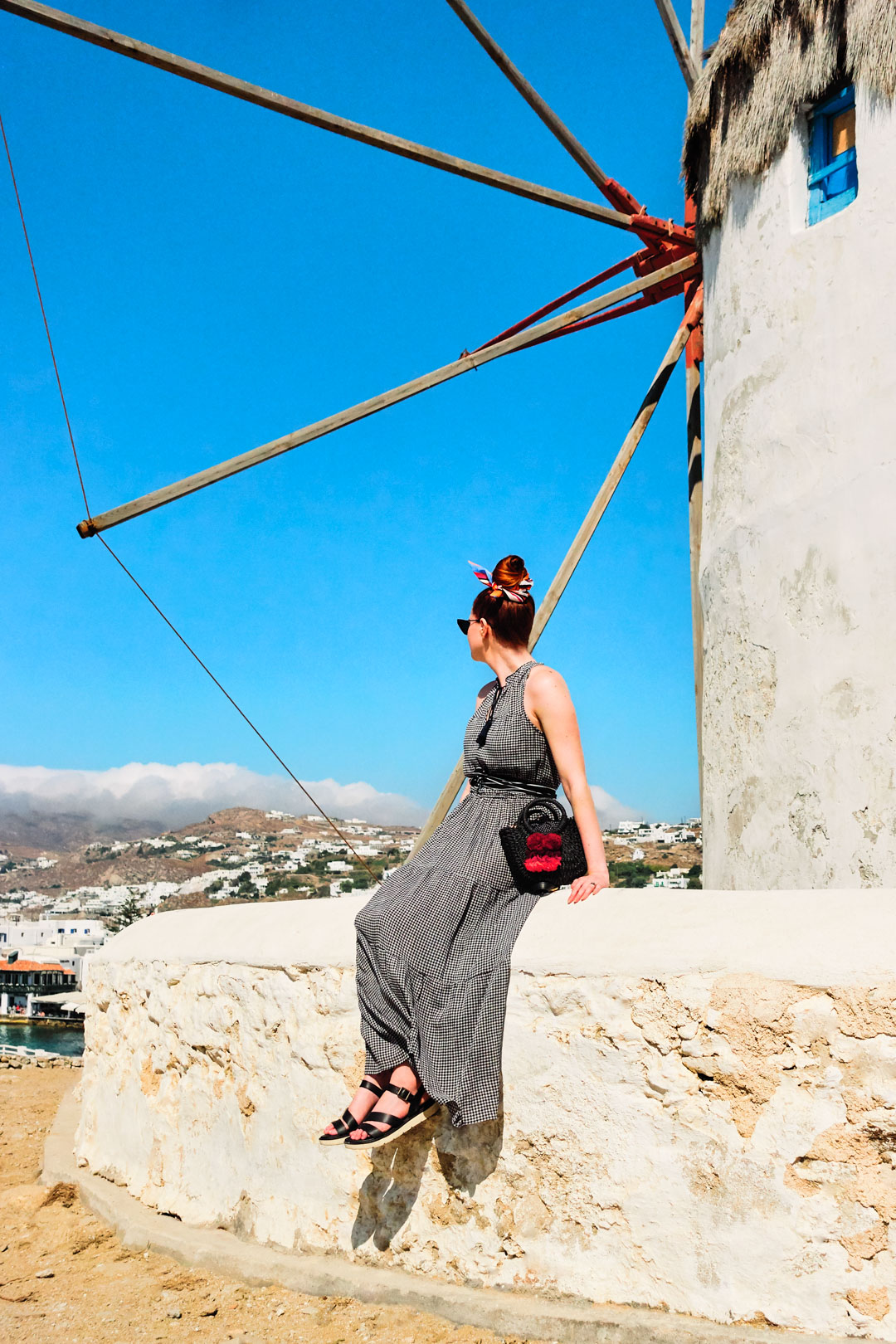 Next, we ventured into town for a little shopping and to grab a seat prime time for sunset. I had read that it's best to snag a seat early in order to get a good spot, but one thing that is not mentioned is finding a seat in the shade. This is paramount if you want to enjoy the sunset without sweating. We were lucky enough to find a cozy corner spot in the shade at Breeze Cocktail Bar. We may have taken "getting early" to an extreme, as we arrived around 3 hours prior to sunset. This was a little over the top, and I think you'd be fine to find a spot 1.5-2 hrs before the magic happens.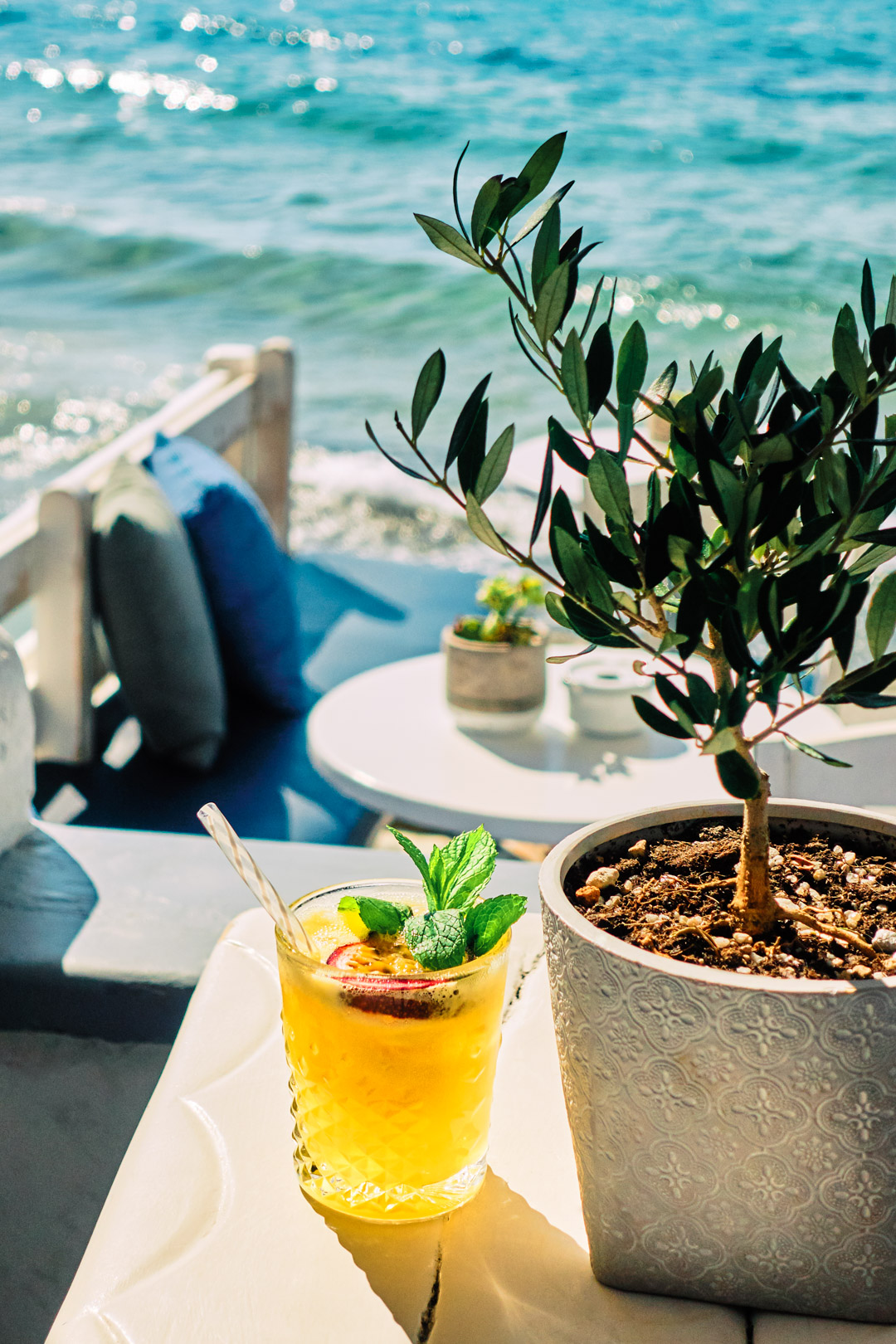 We settled in and enjoyed some cocktails. Above is their passionfruit + mint cocktail- SO GOOD. But my favorite was the Ouzo with rosewater. This was my fist time trying Ouzo (think anise/licorice flavor) and it was so well balanced with the rosewater. Two flavor combinations I would have not thought to put together but ones that married with each other so wonderfully. I highly recommend trying Ouzo if you get the chance.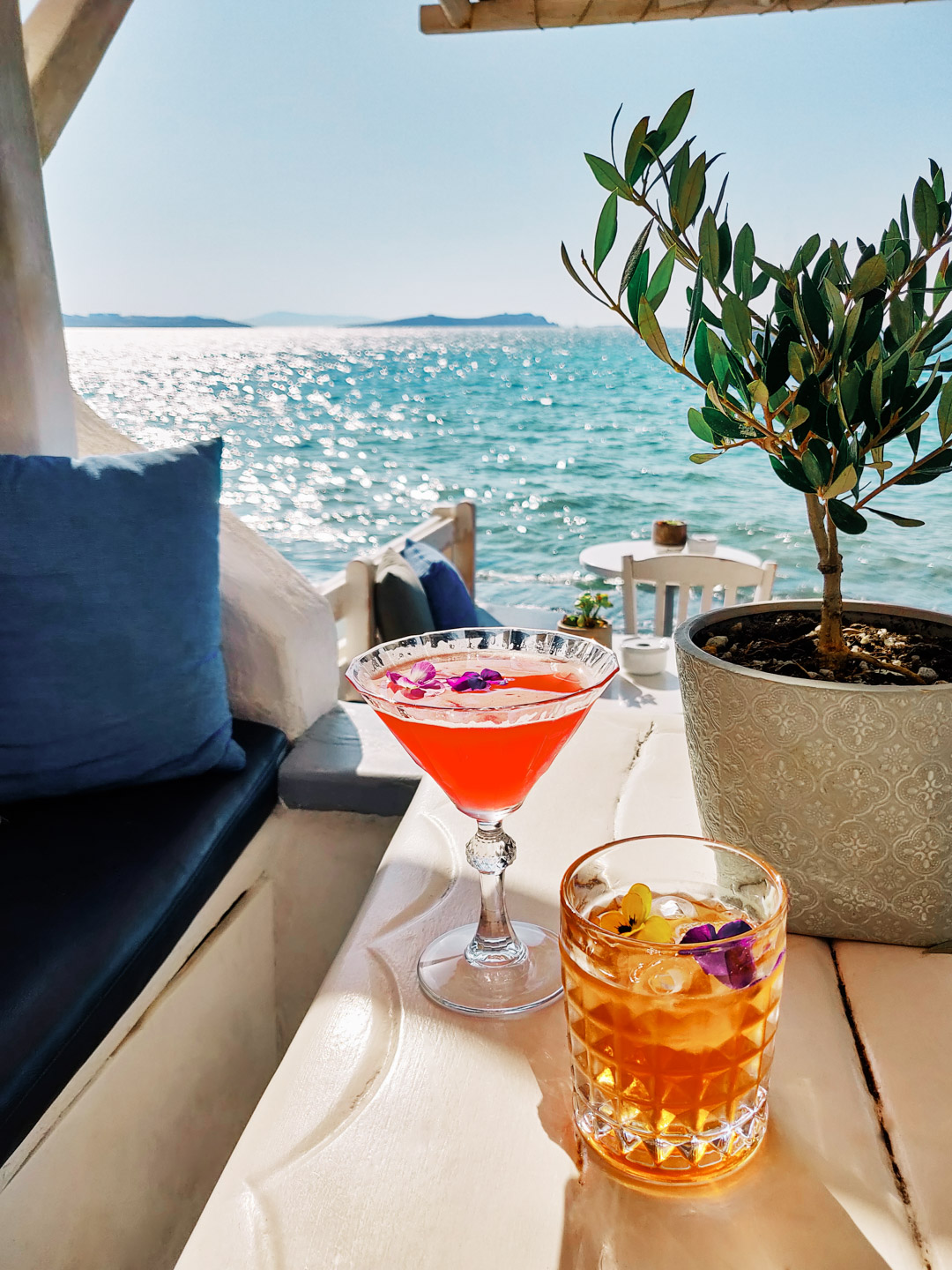 This picturesque spot lent itself to a beautiful view of the windmills at sunset. The Little Venice area in general is the spot to be for sunrise and sunset, but we particularity enjoyed our stay at this cozy hidden gem on the strip.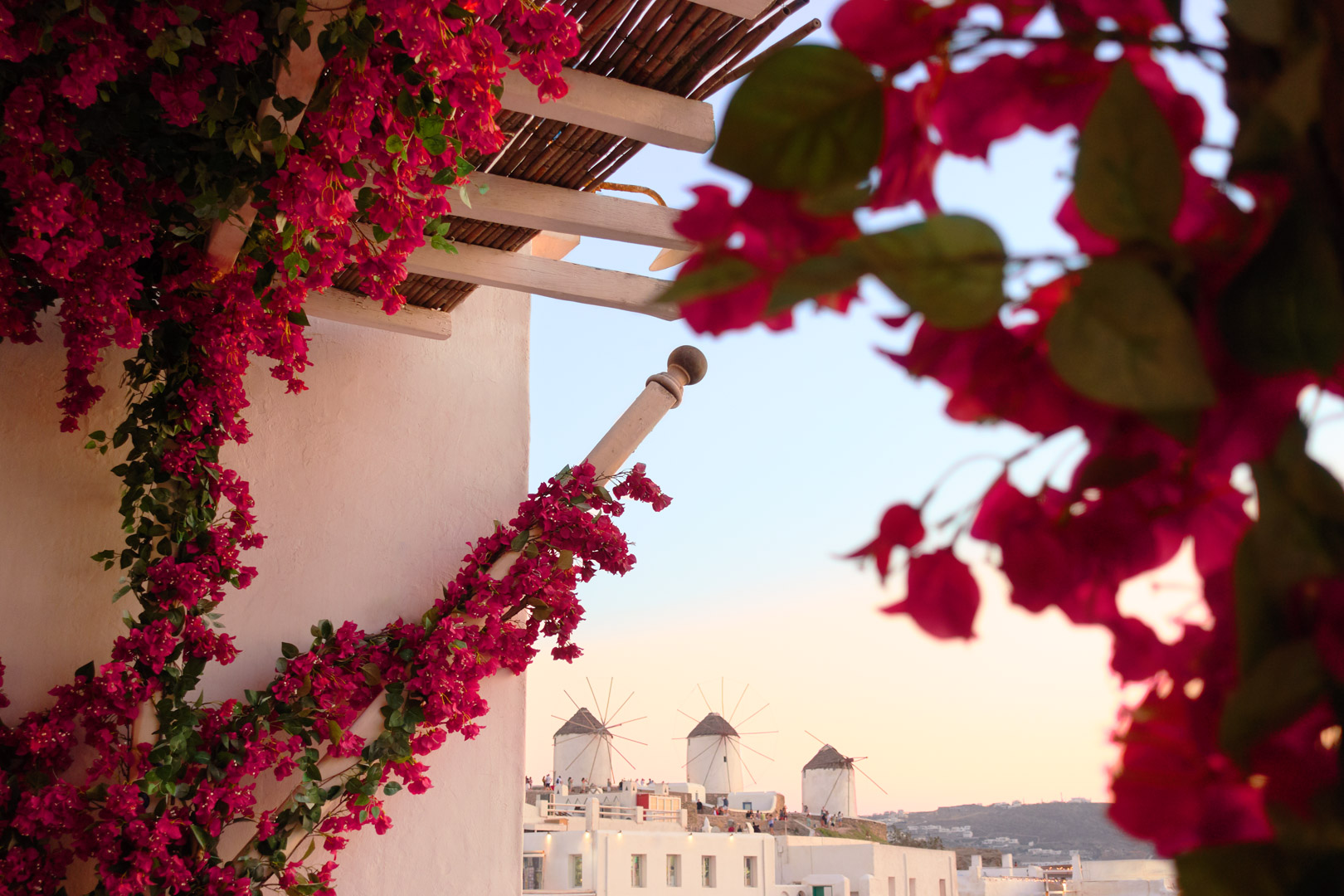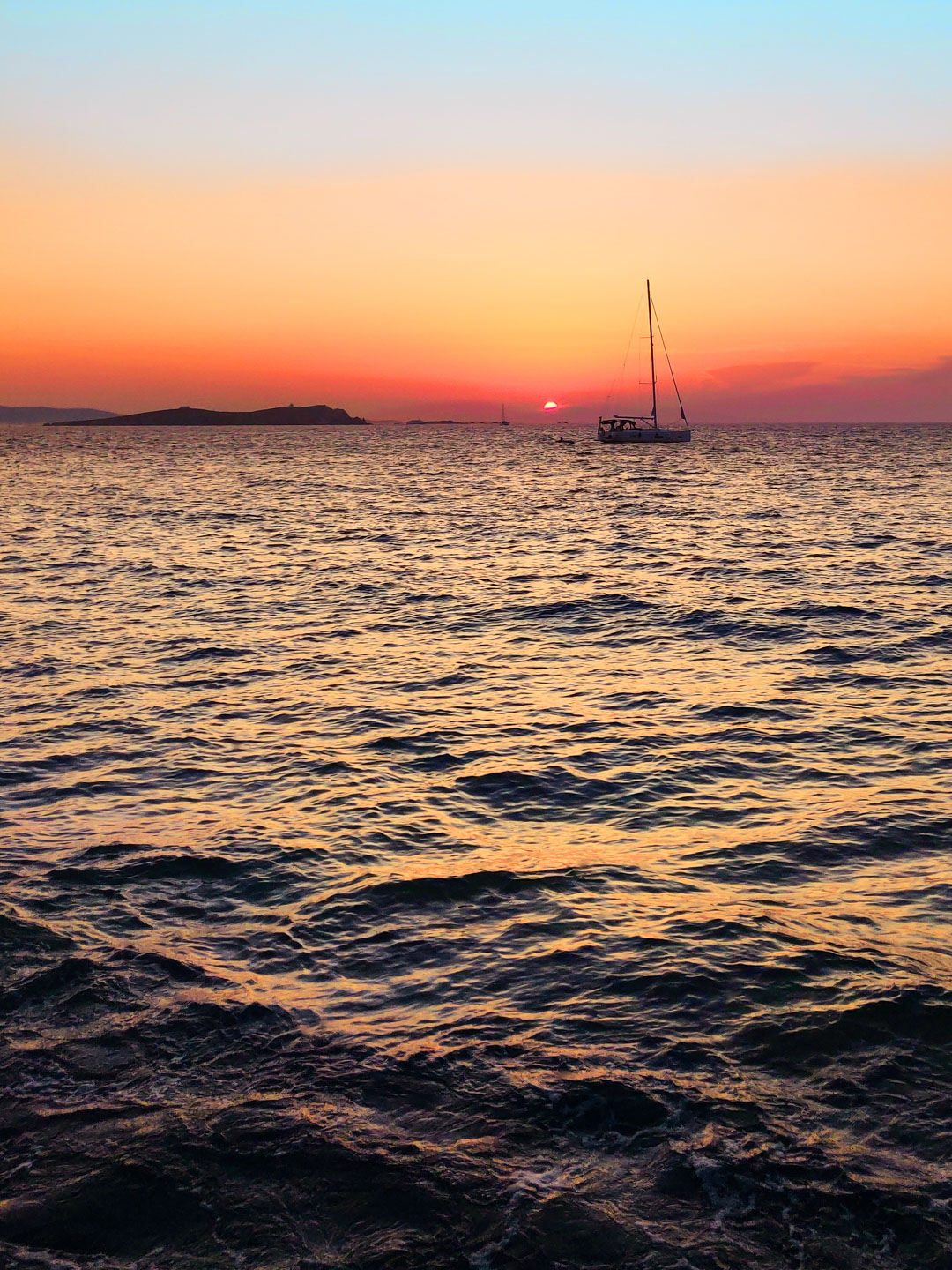 After sunset the city comes to life again and it's time to get lost in the streets of the the island. I was curious what nightlife would be like (or at least the kind before the parties begin) and it was lovely. Twinkle lights are strung above some of the walkways and music plays outside of restaurants with the best smelling enticements. We ate dinner at a modern concept gastronomy restaurant called Pepper Souvlaki and it was delicious. I highly recommend there Saganaki which was irresistible. Feel free to indulge to your hearts content as you will be walking around quite a bit shopping and sight seeing. Of course, I ended up at my cosmetic stomping grounds, Sephora! Seeing the black in white stripes in a cave dome was a fun experience and made for a good photo op. Besides, would it really be a trip if I didn't end up here at some point?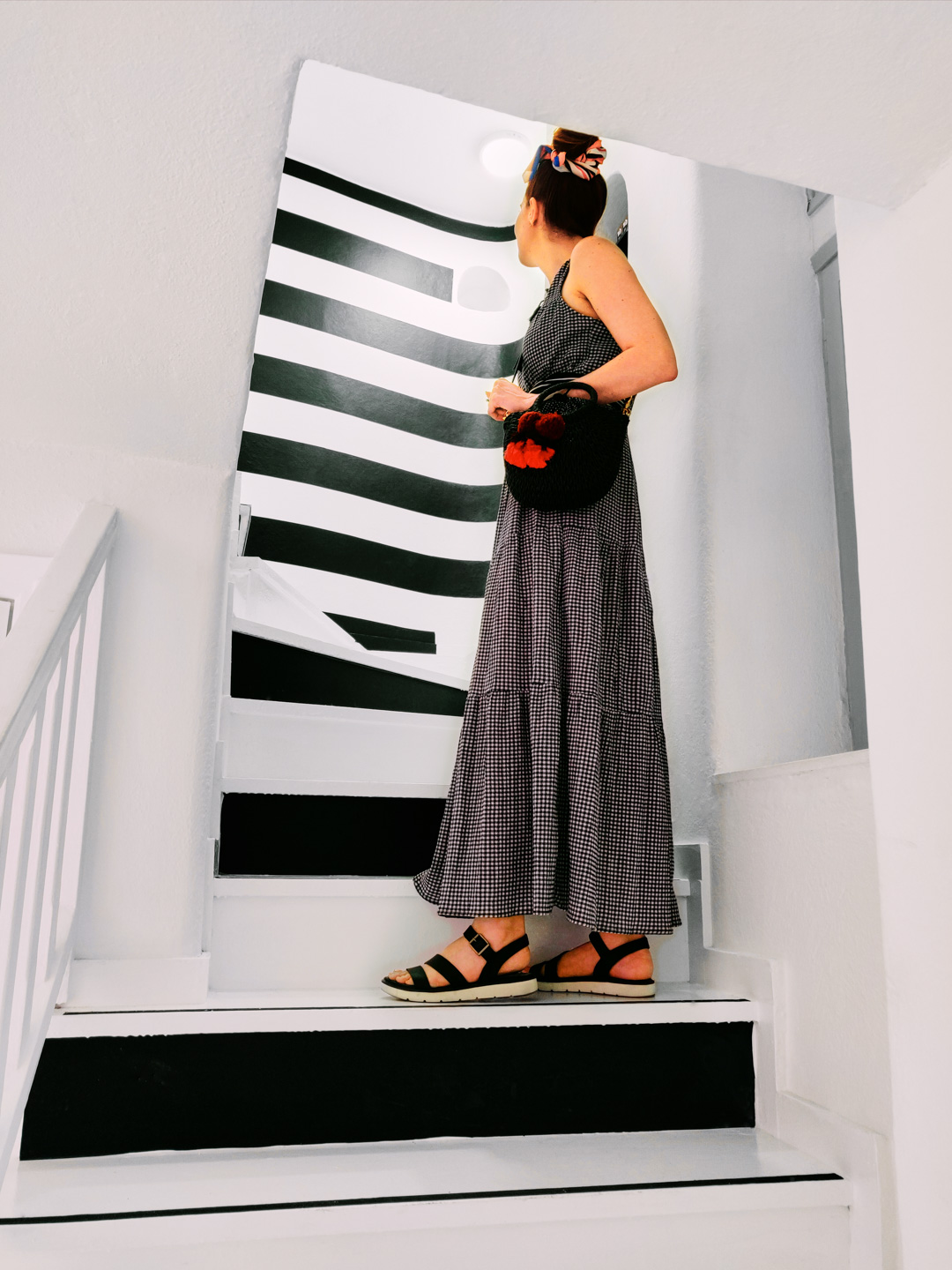 Dress: LC by Lauren Conrad
Scarf Belt: BP.
Shoes: Timberland "Bailey Park"
Head Scarf: Forever 21
Sunglasses: Mykita Gapi